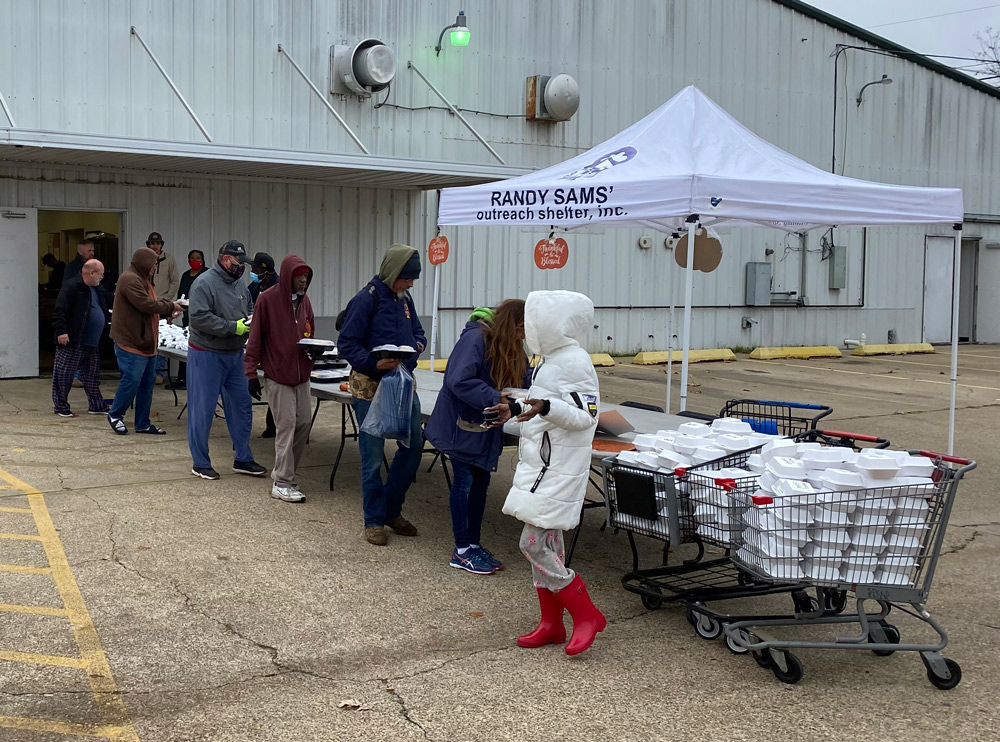 We are in need of donations to provide a hearty Thanksgiving lunch as well as needed clothing/essentials to the area homeless and less fortunate. Please see the list below. If more information is needed, please contact 903-216-0650 or reach out via our Facebook page. As always, we thank everyone who has supported Randy Sams however possible!
*Food donations: We are planning to feed at least 250 individuals. Traditional Thanksgiving lunch items: turkeys, sides, desserts, canned sodas, bottled water. Specific items for preparing dishes: mashed potatoes, macaroni, cheese for macaroni, #10 cans of green beans for casseroles, #10 cans of corn for casseroles, french fried onions, butter, #10 cans of sweet potatoes, dressings, gravy, cream of mushroom soup, #10 cans of fruit cocktail)
*Paper products: extra-large trash bags, paper towels, napkins, paper plates, bottles of hand sanitizer, masks, to go containers
*Clothing/cold weather items: Coats, blankets, scarves, gloves, headwear, sweatshirts, pants, socks, new underwear, and bras.
*Hygiene items: Hygiene bags pre-filled with essentials, or individual items for us to provide at the lunch such as deodorant, dental & shaving care items, body wash/shampoo.
*Monetary donations: Needed to rent additional tables and chairs from DOTS, and for expenses in general since our client numbers are higher this time of year compared to recent years. Donations can be made on this website or by mailing or delivering a check to our admin. office at 803 Spruce St., Texarkana, TX 75501.
Thank you for your help this holiday season!
Jennifer Lacefield
Executive Director