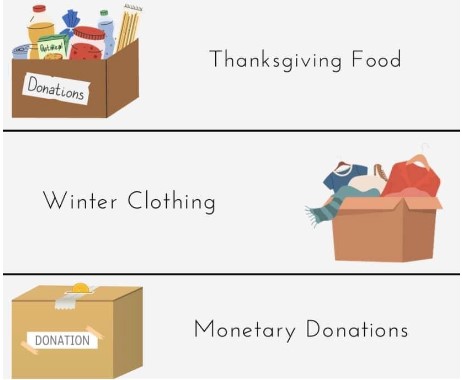 We need your help with our upcoming annual Thanksgiving lunch to the area homeless and less fortunate!
We need food and paper products, financial donations to purchase anything still lacking as we get closer, and warm clothing to make sure those less fortunate have a hearty Thanksgiving meal and warm clothing articles for the fall and winter. Lance Lemay and the Deer 29 Club are providing a lot of items, and we are thankful for their help and look forward to what they bring, but below is the remainder of what we are needing.
Please contact Lori, our Kitchen Manager, at the shelter's number (903-792-7024 )if you have any questions about meal donations, or Christina, our Shelter Manager, if you have clothing donation questions. Clothing and food donations are accepted at the shelter 24/7. The shelter address is 402 Oak Street, Texarkana, Texas. Monetary donations can be mailed to 803 Spruce St, Texarkana, TX, www.randysams.org, or via the button on this post. We ask that if you plan to provide any specific food items that you please send our Facebook page a message letting us know, or you may call Lori at the above number so that she can plan accordingly. Thank you so much for any help you are able to provide!
Food/Drink/Paper Goods
Turkeys/hams
French dried onions
Cream of mushroom soup
Green bean casserole
Sweet potato casserole
Salad and salad dressings
Dressing (cornbread and stuffing)
Macaroni and cheese
Fruit cocktails
Broccoli rice and cheese Casserole
Desserts
Cans & Bottles of Soda and Water
Napkins
Plastic eating utensils
Plastic or Styrofoam Cups
Paper plates
To-go Containers
Trash bags (45-55 Gallon)
Hand sanitizer/masks
Clothing Items (for 70% men):
Coats
Scarfs
Hats
Shoes
Gloves
Socks
New underwear